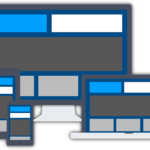 The best way to test this is take your browser, and make it full screen (take up your WHOLE monitor).  That's when you see everything all on one page right?  So now drag that browser to half the size, see how you just STOP seeing your text completely without scrolling to the right? That's what                                            responsiveness changes. 
It makes it so that no matter your screen size, no matter what browser you use, you will always see the text, no scrolling except down. So yes responsive will break where images are, and change their location completely. It will adjust so that no matter what it doesn't take more then scrolling down to see your content. Because moving to the left or right takes too much effort, particularly on the phone. 
The ultimate thing with responsive is it's got to be flexible.
So if I have a 24 inch monitor, it's going to move my text to the center so I don't have a TON of blank space on one side or the other. If my screen size is an 11 inch screen (tablet size) it's going to show some aspects, and move others (where the page places the text/image are going to be different), on a phone it's going to WRAP, meaning the image is not going to be to the left of the text it will be above it. The menu bar will move and adjust as well, when it gets to a specific size it will become a drop down menu, so the 3 bars.
We can help get you moved to a mobile friendly platform or theme!