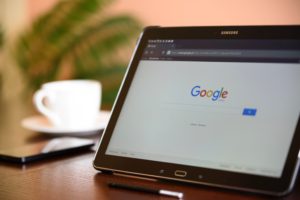 You probably received an email in the past few days from Google regarding GDPR. GDPR is a new data protection law that is coming into effect May 25th. The email says that Google is, or has, shared a load of information regarding GDPR and how it is going into full compliance mode.
What that means for you and me and anybody using the Google Analytics platform is we all need to be aware how long we're asking Google to hold onto the information they're collecting on our behalf. You may not know but when we use Google Analytics some anonymous and also a little less-than-anonymous information is collected from our computers and browsers whenever we go to a site that uses Google Analytics.
In case you missed the email, or deleted it by accident the gist is this; Google is writing to let you know that they encourage you to go into your analytics account and verify the settings.
There is already a default setting, and we'll get into that shortly (and between you and me, you can probably ignore the whole thing if you don't feel like you need to manage that data). But right now its important to know that this is all that the email is designed to do.
You've not done anything wrong, but it is important that google does this so that they aren't getting in any trouble in the future from any compliance audits or anything like that.
So.
You've made it this far, whats the process?
First, head over to the Google Analytics Dashboard
Log in with your account information, and you should see your dashboard/home page with any/all of your most recent data. To access your Retention Settings you'll need to first click on admin in the lower left hand corner of the window and once that loads you need to select the property you wish to change the settings on (if you have more than one).
From here you'll go to the Property Column (should be the middle column) and finally click Tracking Info, and in that section choose Data Retention.
On this page you'll see that the settings take 24 hours to update and won't actually go into effect until May 25th 2018.
The user and event data retention page has a few options in a pull-down-menu and one toggle.
The pulldown menu lists: 14, 26, 38, & 50 months, as well as a "Do not automatically expire" option, where 26 Months is the current default.
The toggle is an option to "Reset on new activity" which is set to "On" by default.
Once you choose the options you would like press save and the new settings will take effect in 24 hours. It's just that simple. For additional information (granted not a whole lot of additional information) visit google's support page for Data Retention here.
But what does that mean? What option should you choose? That is where Google leaves us.
Thinking like HIPAA, or other legal systems for collection and retention of data it is up to you and your business to know what or how long you need to hold onto specific information. It's safe to say that the default of 26 Months should be good for most of our clients, It's the setting I plan on using. But if you feel like you would like to have better archival storage of this data maybe you'd like to choose 38 Months or even the option to never remove the data. Its your choice and ultimately that is what they're going for now.
For sanity sake I'll add in some important links and articles here, for example; here is a blog posting from google's William Malcolm regarding the new data protection rules being put into place by the EU. Those rules are separate, but still a part of why Google is doing what they're doing and if you're interested in learning more on what the original EEA rules are all about you can read that here.
Ever wanted to become just completely obsessed with the core of the Analytics data? Google has you covered with their Google Analytics Solutions Gallery head over there if you're interested in learning new ways to view, and organize your data as well as learn a bit more about how to use the platform.
If you'd like to learn more about Google's data privacy policies you can go here as well as take a look at their data processing terms We'll probably get another email or two regarding all of this but in case you don't remember we'll be looking into this for you and all of our customers!
If you are interested in learning more about this topic and/or would like us to take care of this for you  please contact us via email info@projectsmadesimplellc.com or by calling us at 503-395-8420.