3 Ways to Kickstart Innovation
for

Small Businesses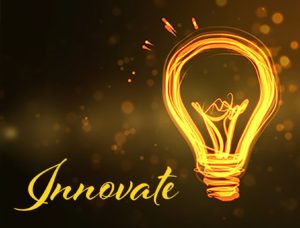 Let's ask the question, what is innovation and how do you apply it to small businesses? Well, the answer to this question can and will vary depending on your industry and/or market. Innovation doesn't necessarily have to be some world-changing breakthrough, it could be something as simple as switching  your billing system to paperless, saving you time and money, and in turn, boosting your bottom line. 
It's distressing that many small business owners have the misapprehension that innovation is only retained for much larger companies, and that perception couldn't be further from the truth. With today's tremendously competitive business environment, innovation is crucial to your company's success, especially as consumers become exceedingly demanding and tech savvy. You need to be innovative to keep up with the competition just as much as the consumers.
Here are 3 key ways to kickstart innovation:
Implement innovation into your business routine
Implement innovation into your business by setting goals that focus on improving products and/or processes and values. For example, one of your business goals might be focusing on creating a new action plan to better engage customers.
Involve your staff members in the innovation process
Create a comfortable atmosphere and encourage your staff to generate and develop positive suggestions and ideas. You can create suggestion boxes at the office, surveys, and even one-on-one or group conversations. You and your staff can attend free workshops, webinars, reading blogs, articles, etc.
Market and invest in innovation
Being innovative and fully committing sometimes can take a lot of hard work and little bit of risk. Invest in technology and equipment that improves your business operations and makes your company more competitive. If you want to thrive and stay ahead of your competitors, it's an essential part of being a small business owner. 
Don't get stuck in the status quo; strive for innovation!
"Status quos are made to be broken."
― Ray A. Davis
If you're interested in learning more about this topic but aren't sure where to begin- reach out to us! Projects Made Simple, LLC is here to help you succeed.